Chia seeds beauty benefits? Seriously? — Try this | AWAYION BEAUTY
Hi, Friends!
Ever wondered if Chia seeds are more than a "seen on TV" Christmas Gift? Only to think about how Christmas is a pagan holiday — overtaken by Believers — and the considerable fuss you'll hear about this subject matter on social media every… single… year? Wowza!
Tough, huh? I understand (*wink).
So what are the beauty deets on Chia seeds?
In this post, discover the amazing beauty benefits of Chia seeds. Because every girl needs a natural beauty hack.
Super Psst… the big secret I've been hinting around on social media for a year now has been unveiled… (it's why I have been MIA… and why I would be MIA in the future… hmm.). Read on after this post for the juicy details.
*Disclaimer: This post has zero affiliate links. As with any health tip or beauty hack, always check with your doctor first. Please see an honest licensed pro. And always do further research. We base these tips on the scientific findings of wellness experts & researchers. The sources for this or any post does not equal a full endorsement of their personal views by Awayion.com.***
TL: DR A quick post glance:
Chia is what now… ?

Glowing Skin

Prevents Acne

Fights premature skin aging

A Therapeutic 
Sound juicy? Okay, Ladies. Let's start
1.

 Chia is what now… ?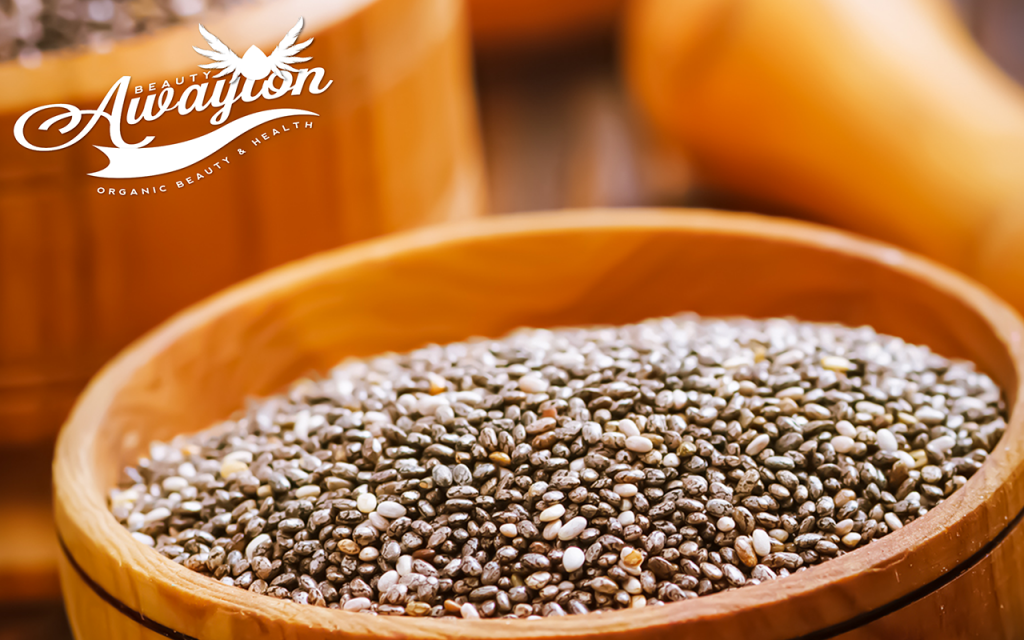 According to wellness researchers, Chia seeds come from Mexico and were originally grown by the Aztecs. The plant can grow to be 2.5 meters tall. Researchers derive the name Chia from a native word meaning "oily" or "powerful." Now, a few extra deets on chia seeds:
non-allergenic

may aid in control of blood glucose

high in fiber and omega-3 fatty acids

excellent source of protein, calcium, and other vitamins
Now that we know about Chia seeds, let's dive into their beauty benefits.
RELATED: Is your hair whack not gorgeous? See this
2.

 Glowing Skin
Every girl desires fresh glowing skin, right? Yes? Me too! So, how can Chia seeds help?
Chia seeds for skin are extraordinary as omega-3 fatty acids present in them aids in increasing the collagen levels of the skin and makes it look glowing. Chia seeds help to increase the skin's elasticity and firmness levels. 
At that, Chia oil for skin is a natural serum that absorbs in the layers and keeps them healthy and glowing from the inside. Chia oil supports healthy cell function and keeps the free radicals at bay (Care, Skin, Skin and Naturals, 2021).
RELATED: 3 ways organic Lavender can boost your beauty. Try this
3.

 Prevents acne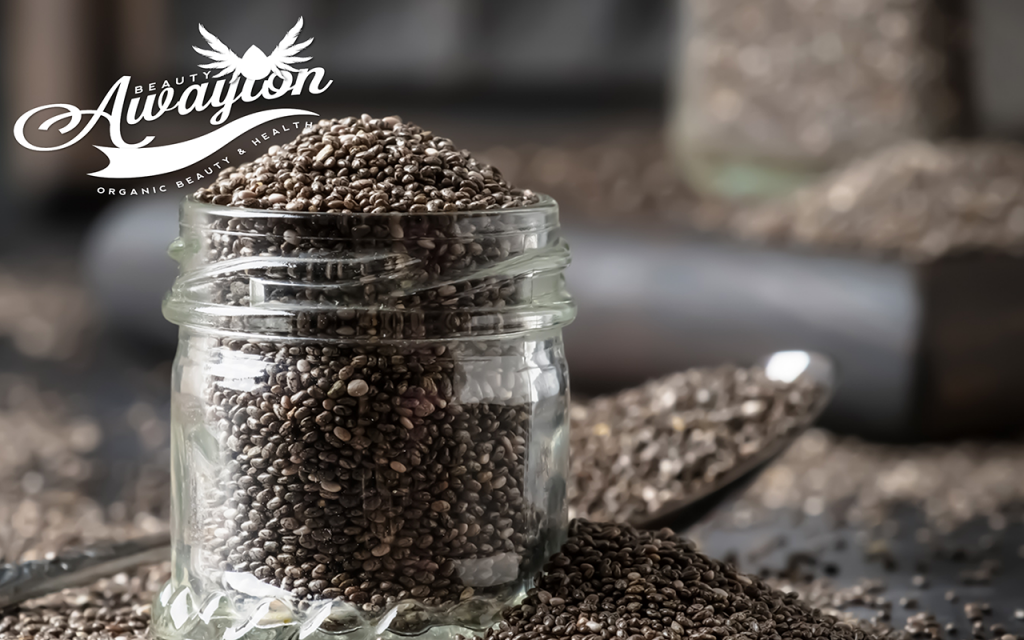 No girl wants her picture taken when she has acne. So what can Chia seeds do to fix this beauty emergency?
Using chia seeds as a face mask or scrub or by consuming them with water frequently can improve the quality of skin. It helps in foiling acne and pimples caused because of excess dirt and bacteria. Dermatologists and beauty experts often suggest chia seeds for unblemished skin because they can reduce excess sebum production on the skin and make the skin look fresh (Care, Skin, Skin and Naturals, 2021).
RELATED: You can put Manuka honey on what? See this
4.

 Fights premature skin aging
Rough dry skin is a great way to age yourself. You don't crave to look old —before your time. So what can Chia seeds do to prevent this skin issue?
For those who have dry skin, a fear of premature skin aging with fine lines, wrinkles and crow's feet setting in earlier than usual exists. Chia seeds for skin not only moisturize and hydrate it but give a youthful glow. Chia seeds being high in vitamin E help in moisturizing the inner layer of the skin as well, delaying premature aging.
That said, Chia seed retain and lock in moisture from the inner layers. Chia seed oil for skin is very effective if applied routinely, as it helps moisturize dry skin areas such as elbow and knees, making them spongy (Care, Skin, Skin and Naturals, 2021).
RELATED: Beauty boosting teas? Yes, please! Try this
4.

 A Therapeutic 
Fighting skin infections can be a bummer when you have to look your best. So what can Chia do to help this skin issue?
Being loaded with minerals such as zinc, chia seeds are the perfect antioxidants that heal the skin and keep it free from bacterial and fungal infections. Even greater, it repairs dead skin cells and promotes the growth of new ones. 
Fancy, beauty benefits, eh?
Super Awesome Side Note: These wellness tips are only for your decernment and consideration.
Major Takeaways
You now know the amazing beauty benefits of Chia seeds.
This post is a part of Awayion Beauty. So make sure you come back for more powerful beauty tips.
Know of other Chia seed beauty benefits?
Quick, save this pin (psst… it's FREE) from Awayion's Top Content Board on Pinterest: @Awayion ( PSST: Awayion is moving away from Pinterest to Telegram)
Secret

Juicy

Details
Ahh… so you are ready for the secret… hmm… you are. I won't keep you in suspense any longer… I have authored my first juicy success book for you. Want success? – Click here.


If you find a typo, just know that it happens to all of us! 🙂
More posts you'll love, because you clearly have great taste
Care, N., Skin, 6., Skin, 6. and Naturals, G., 2021. Chia Seeds For Skin – Uncover 6 Amazing Benefits of Chia Seeds For Glowing Skin @MyBeautyNaturally. [online] MybeautyNaturally. Available at: <https://www.mybeautynaturally.com/natural-skin-care/benefits-of-chia-seeds-for-skin> [Accessed 8 October 2021].
Conover, M. (2011). CH-CH-CH-CHIA SEEDS FOR INQUIRY. Science Scope, 34(8), 20–24. http://www.jstor.org/stable/43184135 [Accessed 8 October 2021].