Unaware of the 3 Best Nutrition Tracker Apps? Fix that – See this 
| AWAYION BEAUTY
Hi, Friends!
Are you wondering what makes a PERFECT nutrition tracker app?
Well, it's one that helps you stick to your diet plan and win. Extra? I know (*wink*).
So, what are they?
In this post, discover the 3 best nutrition tracker apps for your diet. Because every girl deserves to see maximum results from her diet plan.
Super Psst… the big secret I've been hinting around on social media for a few months now has been unveiled… (it's why I have been MIA…). Read on after this post for the juicy details.
*Disclaimer: This post has zero affiliate links. As with any health tip or beauty hack, always check with your doctor first. Please see an honest licensed pro. And always do further research. We base these tips on the scientific findings of wellness experts & researchers. The sources for this or any post does not equal a full endorsement of their personal views by Awayion.com.***
TL: DR A quick post glance:
What is a nutritional tracker app… ?

3 best nutrition tracking apps

Can you benefit?
Sound cool? Okay, Ladies. Let's start!
1.

 What is a nutrition tracking app… ?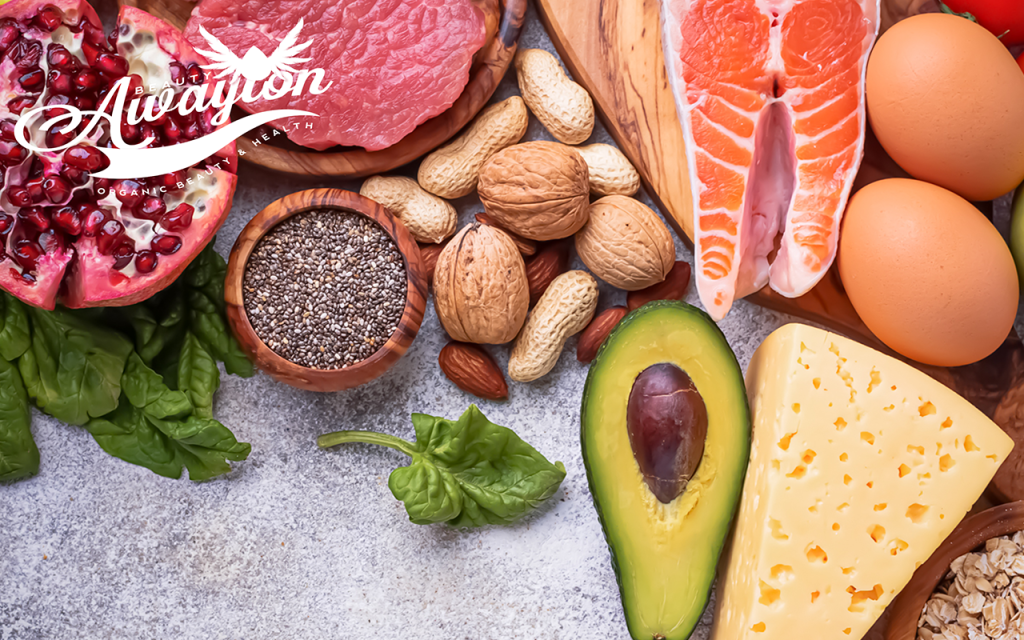 For starters, nutrition tracking apps are for long term managment and "accurate" meausurement of your daily dietary intakes.
Self-trackers draw on varying criteria for adequate accuracy depending on how they practically integrate their tracking practices into everyday life. In essence, self-trackers are striving for practical consent over what an "accurate" measuring looks like and in what cases inaccuracy can respectively not be tolerated (Noji, 2022).
That said, this post describes the evaluation of 3 nutrition tracking apps associated with the following critera:
Available as both an iOS and Android app

Not linked to a specific diet + the ability to manually add your own food & nutrition information

Macro + micro-nutrient tracking features

Calorie counting functionality

At least 10,000 reviews (aka higher usability) on either the Apple App Store or Android App Store + a minimum average rating in at least one store of 4.5/5
RELATED: Want to eat food that burns calories? See this
2.

 3 best nutrition tracking apps

MyFitnessPal
Pricing: Free Basic version, paid Premium version at $9.99/month to $79.99/year
Best for: Those interested in an active community + wearable integrations
Number of reviews (score)

Apple App Store: 1.4M (4.7) #6 in Health & Fitness
Google Play Store: 2.5M (4.5) Editor's Choice
An absolute powerhouse in the calorie tracking app space, and for good reason: MyFitnessPal has a database of over 14 million food items (including restaurant foods) (P., 2022).
MyFitnessPal is an easy app to use. As a bonus this app boasts a vast community on Reddit where users share stats, encouragement, even fitness tips.
Bar scanner functionality, meal logging, and tons of integrations with a host of different exercise wearables and other tracker apps round out the offerings (P., 2022).
Unfortunately, most of the features beyond basic food and calorie tracking — like macronutrient tracking, exercise tracking, and goal setting — are behind a paywall and require an upgrade to the Premium version of the app (and the free version of the app has ads) (P., 2022).
Lifesum
Pricing: Free Basic version, paid Premium version at $21.99 to $59.99/year
Best for: Those committed to a specific diet like Mediterranean or vegan
Number of reviews (score)

Apple App Store: 120.9K (4.7) #86 in Health & Fitness
Google Play Store: 312K (4.4) Editor's Choice
Lifesum's free version is more feature-rich than almost every other nutrition tracker app on this list. For no money down you get access to: meal and calorie tracking, macro tracking, bar code scans and picture recognition, habit tracking for things like water and vegetables, exercise tracking, and more (P., 2022).
Premium users enjoy limitless options on saved foods and meals + more variety in diet breakdowns. The Premium users can answer a few questions about habits and preferences to get personalised meal and exercise plans.
Reviewers occasionally note inconsistent measurements in some of the food items listed in the database. However, this complaint is common across nutrition tracking apps as many of the food items are user-added (P., 2022).
Cronometer
Pricing: Free Basic version, paid Gold version at $8.99/month or Gold Subscription at $49.99/year
Best for: Those who love customization and freedom
Number of reviews (score)

Apple App Store: 31.7K (4.7) #107 in Health & Fitness
Google Play Store: 19K (4.5)
This nutrition tracking app is originally designed to help you if you are following a "calorie restricted optimum nutrition" diet (aka CRON).
According to the developers, Cronometer is different from other diet apps and food trackers in that all food comes from lab-analyzed data sources and user submissions are checked for accuracy.
And the features included with Cronometer reflect that anti-aging focus. Not only can you count calories, track micronutrients (over 80), log meals, track exercise, add custom foods, and sync biometrics wearables like Fitbit and the Polar Vantage watch, or sleep trackers like the Oura Ring, but the app will also help you log and track longevity interventions like intermittent fasting, all in one place (P., 2022).
Some reviews do mention the app occasionally suffers from issues syncing data with different wearables, and the free version is ad-supported, which can turn off some people (P., 2022).
RELATED: Is your stress making you fat? See this
3.

 Can you really benefit?
Sure, you can benefit from using a nutritional tracking app — but know that usability app related problems exist in all self-trackers. At that, self-trackers are confronting three major obstacles: the inaccuracy of measuring, the cumbersome materiality of objects and everyday practice, and the fuzzy relation of everyday doings and measuring (Noji, 2022).
So like all my health and wellness posts, I urge you to do further research before you integrate theses apps in your life.
RELATED: Ever tried berberine for weight management? Try this
Major Takeaways
You now know of 3 best nutrition tracking apps.
This post is a part of Awayion Beauty. So make sure you come back for more powerful beauty tips.
Know of other nutrition tracking apps?
Quick, save this pin (psst… it's FREE) from Awayion's Top Content Board on Pinterest: @Awayion
Secret

Juicy

Details
Ahh… so you are ready for the secret… hmm… you are. I won't keep you in suspense any longer… I have authored my first juicy success book for you. Want success? – Click here.

If you find a typo, just know that it happens to all of us! 🙂
More posts you'll love, because you clearly have great taste
Kirwan, M., Duncan, M. J., Vandelanotte, C., & Mummery, W. K. (2013). Design, Development, and Formative Evaluation of a Smartphone Application for Recording and Monitoring Physical Activity Levels: The 10,000 Steps "iStepLog." Health Education & Behavior, 40(2), 140–151. http://www.jstor.org/stable/45088064 [Accessed 23 May 2022].
Noji, E., 2022. Transformations, Inaccuracies, and the Limits of Measuring in the Field of Self-Tracking. Historical Social Research / Historische Sozialforschung, [online] 46(no. 1), pp.261–284. Available at: <https://www.jstor.org/stable/27000005> [Accessed 23 May 2022].
P., J., 2022. 5 Best Nutrition Tracker Apps for 2021 - Longevity Advice. [online] Longevity Advice. Available at: <https://www.longevityadvice.com/nutrition-tracker/> [Accessed 23 May 2022].