Before You Try Other Potato Beauty Hacks – Try These | Awayion Beauty

Hi, Friends!
Ever search for potato beauty secrets that actually work?

Oh, you did? That's nice.

In this post, discover 5 irresistible potato beauty hacks. Because every girl needs to know how she can get fabulous from a potato.
Super Psst… the big secret I've been hinting around about on social media for a few months now has finally been revealed… (its also why I have been MIA for a bit… ) Read on after this post for the juicy details.
*Disclaimer: This post contains zero affiliate links. As with any health tip, ask your doctor first. Always do further research on what you consume. These tips are based on the scientific findings of wellness researchers. Also, the sources for this or any post does not equal a full endorsement of any their personal views by Awayion.com.***
TL:DR A quick post glance:

Dark Circle Brightener

De-puffer (No More Baggy Eyes)

Removes Under-Eye Wrinkles

Removes Acne Scars


Exfoliating Toner
Sound amazing? Okay, ladies, let's start.
1.

Dark Circle Brightener

|

No more Panda Eyes for you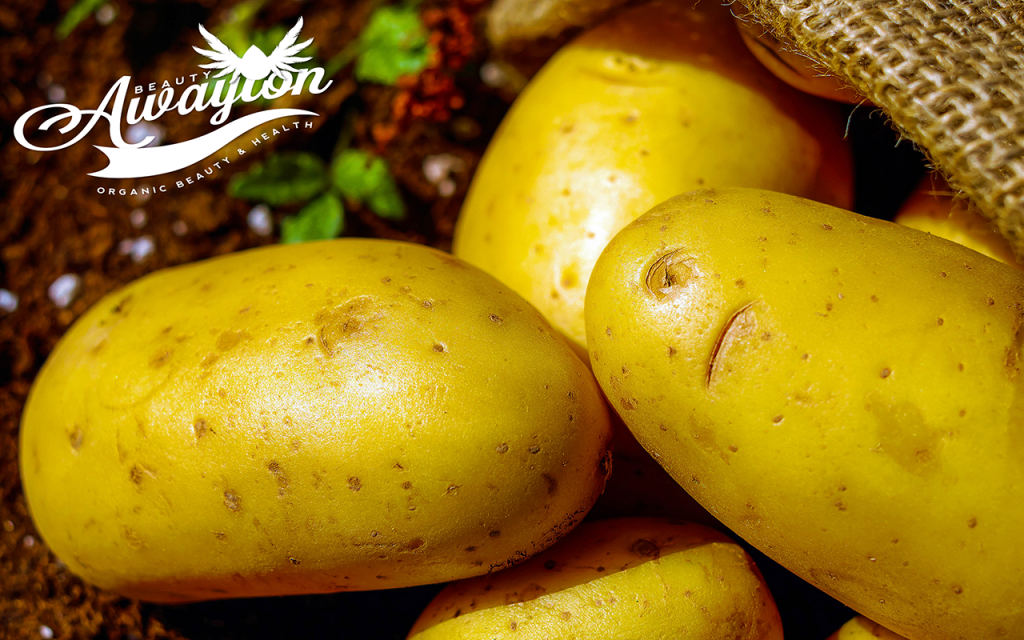 Applying a potato wedge under your eyes is a natural way to brighten dark circles.
Begin this secret hack by peeling and slicing an organic potato into two wedges. Next, place the sliced potato wedges in a cool washcloth. Then, let them sit over your eyes for 20 minutes. Remove slices and rinse under your eyes with cool water.
RELATED: Going to a spa? You should see these spa secrets
2.

De-Puffer

|

Bug-eyes be gone
Why have eyes like the scientist (after his experiment went wrong) in that ancient 1980s film, The Fly?
Begin this hack by placing a cool organic potato slice over your eyes. Then keep the slices on your eyes for 20-25 minutes. Do this daily for quick soothing and de-puffing.
3.

Under Eye Wrinkle Blaster

|

Getting carded. Yes.
This secret hack will stop you from buying old lady creams. You know — the ones in the fancy small glass jars. And don't be fooled by their ads against home remedies, they only want your money.
Begin this hack by using a lemon juicer to remove the liquid from an organic potato. Then apply the liquid under your eye with a cotton ball. This could help you fight fine lines.
Do this daily to slay under eye wrinkles.
RELATED: Feeling bad and looking ugly? Try this
4.

Acne Fighter

|

Pizza face? Who?
Are you tired of buying expensive acne mysterious chemical beauty products — with SAT & MAT vocabulary ingredients? Then an organic potato is your secret beauty hack.
Begin fighting acne by swiping your face with potato juice. Do this beauty regime daily. And you could enjoy having acne free skin.
5.

Exfoliating Toner 
You can use potato juice as a exfoliating toner. This is one of the best-kept secrets of a potato.
Begin this beauty hack by grating an organic raw potato and mix with 2 tablespoons of lemon juice. Next, apply the mixture to face, avoiding eyes. Then let sit on your face for 25 minutes.
The mixture will reduce swelling, remove hyper-pigmentation, and exfoliate dry skin cells.
RELATED: Know of foods you need to avoid? See this
Major Takeaways
You discovered 5 awesome-sauce organic potato beauty secrets.
This post is a part of Awayion Beauty. So make sure you come back for more powerful beauty tips.
Know of other potato beauty secrets?
Quick save this pin (psst… it's FREE) from Awayion's Top Content Board on Pinterest: @Awayion

Secret

Juicy

Details
Ahh… so you are ready for the secret… hmm… you are. I won't keep you in suspense any longer… I have authored my first juicy success book for you. Want success? – Click here.

If you see a typo just know that it happens to all of us! 🙂
More posts you'll love, because you clearly have great taste