5 Strawberry Beauty Secrets that Few People Know | AWAYION BEAUTY
Hi, Friends!
Most likely you do not think of strawberries as an internal beauty secret.
The truth is that some of the best beauty secrets correct flaws from inside the body.
In this post, discover 5 strawberry beauty secrets. Because every girl should know how to get the most use from her strawberries.
*Disclaimer: This post contains zero affiliate links. As with any health tip or beauty hack, ask your doctor first. Please see an honest licensed pro. Always do further research on what you consume. These tips are based on the scientific findings of wellness researchers. Also, the sources for this or any post does not equal a full endorsement of any their personal views by Awayion.com.***
TL:DR A quick post glance:

Anti-aging properties (aka anti-aging superstar)

Mind Booster

Healthy Heart Maker


Immunity Booster

Anti-cancer Agent
Are you ready ladies? Let's start!
1.

Anti-aging Superstar
For starters, organic strawberries promote beauty from within. They are full of powerful antioxidants which help fight skin inflammation. The antioxidants found in strawberries help slow down the skin aging process.

2.

Mind Booster
Strawberries improve mental health. Most people do not think of a beauty secret that involves having clear thinking.
Have you ever heard that charm is deceitful and beauty is passing? If you have, then you know that your thoughts and actions can make you ugly or beautiful despite external enhancements.
RELATED: Feeling bad and looking ugly? See this
3.

Healthy Heart Maker
Strawberries promote heart health. They can prevent cardiovascular diseases.
You need a healthy heart, when you do cardio to improve your outer beauty. This is where the wonderful strawberry could help you improve your cardiovascular system and your attractiveness.

4.

Skyrockets the Immune System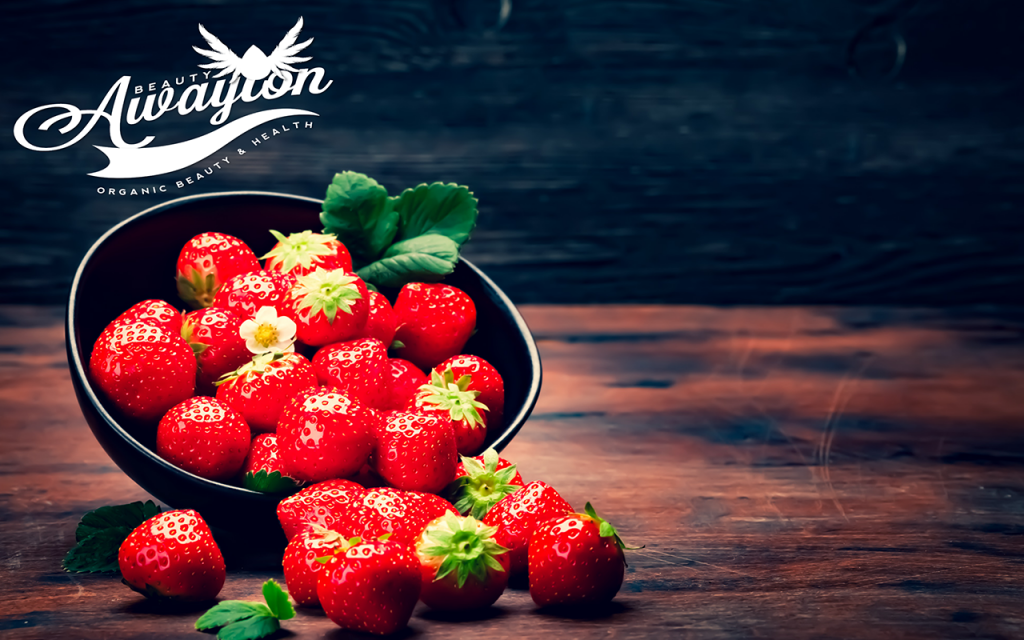 Strawberries boost your immune system. By eating more strawberries, you can say goodbye to looking sick. With the help of strawberries, you can say hello to looking beautiful inside and outside.
RELATED: Food that burns calories? See this
5.

Anti-Cancer Agent
Strawberries can help prevent both colon & throat cancers. Cancer can destroy your outer and inner beauty. Strawberry antioxidants, slow down the production of cancer cells.
Also, strawberries can help the body destroy certain types of carcinogens.
Major Takeaways
You now know 5 powerful strawberry beauty secrets that few people know.

This post is a part of Awayion Beauty. So make sure you come back for more powerful beauty tips.
Do you know of more strawberry beauty secrets?
Quick save this pin (psst… it's FREE) from Awayion's Top Content Board on Pinterest: @Awayion

If you find a typo, just know that it happens to all of us! 🙂
More posts you'll love, because you clearly have great taste
Blair, Robert M., and Aaron Tabor, eds. Nutritional Cosmetics: Beauty From Within. Google Books. William Andrew, 2009. Web. 24 Jan. 2017. 
Proverbs 31:30 NKJV - - Bible Gateway. Bible Gateway, n.d. Web. 24 Jan. 2017. <https://www.biblegateway.com/passage/?search=Proverbs+31:30&version=NKJV>.
Tadimalla, Ravi Teja. "25 Best Benefits Of Strawberries For Hair And Health." STYLECRAZE. IncnutIncnut, 9 Nov. 2016. Web. 24 Jan. 2017. <http://www.stylecraze.com/articles/benefits-of-strawberries-for-skin-hair-and-health/#GoodForTheEyes>.