Quick Heads Up: My pilot TV show logo unboxed – See this | AWAYION BEAUTY
Hi, Friends!
Logo? This is a quick update to give you the inside deets on my pilot show logo.
This idea came to mind after realizing the meaning behind my Shine (2012) pilot TV show logo is unknown to you — and could be judged as a conspiracy theory or linked to occultism.
So, what's the deal you ask?
In this post, I explain the deets about my TV show logo. Because every girl in Christ is should have clarity.
Super Awesome Side Note: We will get back to our normal Inner Beauty posts next month. Another update for you is, I am not listed on IMDB because I don't want to be at the moment.
Super Awesome Side Note: Before we start, understand we will not claim contested truths. And we will refrain from falling into the trap of "teaching man-made ideas as commands from the Creator."
Out of respect for believers, we will simply acknowledge the multiplicity of views on this subject (the keyword is "acknowledge" and not agree). So, always do further research.
Super Psst… the big secret I've been hinting around on social media for a few months now – is revealed… (it's why I have been MIA for a bit…). Read on after this post for the juicy details.
*Disclaimer: These tips could be helpful. Especially if you are a believer in Christ. Always do further research. The sources for this or any post do not equal a full endorsement of any ministry or evangelist's personal views by Awayion.com.***
TL:DR A quick post glance:
Symbol meanings

Shine tv show logo clarity

Research
Sound juicy? Okay, Ladies. Let's start.
1.

 Symbol meanings…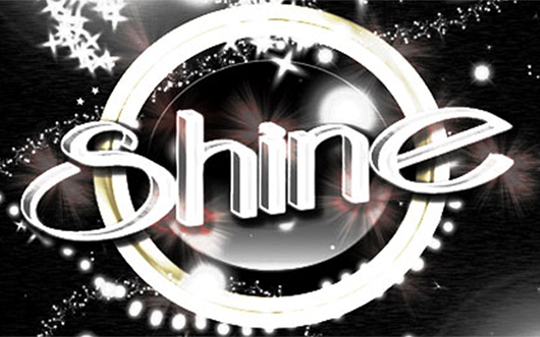 For starters, all symbols have multiple meanings. You can look at a familiar symbol and assume the artist intended it for (fill in the blank). What makes this act uncanny is you could be wrong.
That being said, I created the Shine logo to embody a button pushed resulting in light "shining in darkness". You could misjudge the logo button as an occult circle within a circle. The Shine logo is NOT an occult symbol. It is a rendition of a luxury car button. At that, not knowing this — about my logo — could lead you to bear false witness.
Research ❤ Exodus 20:16
RELATED: Are you a bearing false witness? Read this
2.

 Shine tv show logo clarity
For clarity, inspiration for my Shine logo came from a tutorial on start button mock-ups. In the tutorial, the button background is leather — which resembles the inside of a luxury car. In my rendition, I removed the leather — kept the button — and created an environment to resemble space/time.
So as a quick recap, the Shine logo is not symbolism for the occult/witchcraft — it is ONLY a representation of a button pushed resulting in light "shining in darkness". And looking at it today, it needs polishing.
Research ❤ Ephesians 4:25, Proverbs 19:9
RELATED: Do you tell lies? Read this
3.

 Research
Major takeaway, always do further research before you make a final judgement of anyone using symbolism that could be viewed as the occult or worse. You do not want to fall into the trap of bearing false witness.
Research ❤ Matthew 19:18
RELATED: Imposters and you, yes you. See this

Major Takeaways
You now know the inside deets on my pilot show logo.
This post is a part of Inner Beauty. So make sure you come back for more powerful beauty tips.
Know of other show logos you may of misjudged?
Quick, save this pin (psst… it's FREE) from Awayion's Inner Beauty Tips & Quotes Board on Pinterest: @Awayion
Secret

Juicy

Details
Ahh… so you are ready for the secret… hmm… you are. I won't keep you in suspense any longer… I have authored my first juicy success book for you. Want success? – Click here.


If you find a typo, just know that it happens to all of us! 🙂
More posts you'll love, because you clearly have great taste
Online, K. and 6:16-19, P., 2022. BIBLE VERSES ABOUT BEARING FALSE WITNESS. [online] Kingjamesbibleonline.org. Available at: <https://www.kingjamesbibleonline.org/Bible-Verses-About-Bearing-False-Witness/> [Accessed 26 July 2022].